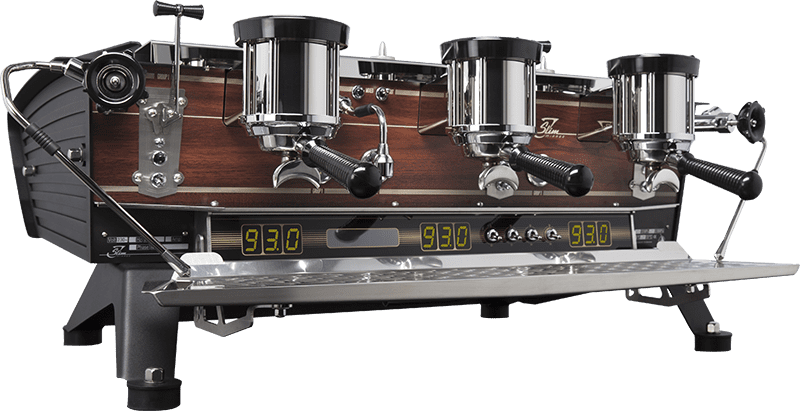 — 

E X P E C T E D  2 0 1 9
—
TECHNICAL FEATURES
Multiple boiler system: one boiler per group, PID temperature controlled, each fed with water preheated to target temperature by a huge thermo loop heat-exchanger with automatic temperature adjusting.
Actual temperature at each group is displayed in extra large digits.
Two stage progressive pre-infusion cylinder per group
Pressure gauge per group indicating real-life extraction pressure at the puck.
Shot-timer per group.
Drain tray easily adjustable in height.
Two different temperatures of hot water.
Isolated, powerful steam boiler – up to 6.000Watt.
Dual volumetrics Bastone lever.
All stainless steel construction
OPTIONAL
Foot activated steam valves.
Adjustable temperature cup heater.
Sneeze guard awning.
External temperature probe.
VIRTUAL ENDLESS CUSTOMISATION POSSIBILITIES
Next to the high build quality and strong performance in extraction and steam, our machines` main point of difference has since 1984 been their design. We intend to exploit our experience in this field to its full extent. The Slim Jim will be offered in a wide array of appearances. Everybody can now have their own bespoke machine, be it the aspiring espresso bar owner or the chain of shops. One may choose between many different, visually defining parts like legs, front panels, side panels, cup rails, colours, awnings, colour of knobs/handles, groups, etc. All parts are interchangeable.
A BRAND NEW MEMBER OF OUR HANDSOME LOOKING FAMILY OF MACHINES:
HAVE IT BUILT IN YOUR STYLE!